MOVE OVER, SARA LEE!
In the mornings when I'd get up and get ready for school, I remember it being dark out.
I hated that. Why did I have to go to school so early?
But Mom knew this so she always made sure we had a good breakfast.
It was seldom cereal and milk. She always made us something yummy.
Pancakes, waffles and French toast were typically reserved for weekends but if she wanted to make my brother and me really happy on a school day, she'd bust out the cheese Danishes by Sara Lee.
Those were my favorite. Nothing could go wrong on a day that started out with a cheese Danish for breakfast.
As an adult though, it's not that I've forgotten about cheese Danishes.
Generally, I remember when I spot them in the bakery at the supermarket and I think, "Oooooooooh. Cheese Danish."
And then I drool like Homer Simpson.
Because I bake so many things, I try to steer clear of stuff from the bakery.
Now I found the perfect solution to my Danish cravings with this recipe. Yum!
THE BREAKFAST OF CHAMPIONS!
This is so easy and turns out so well, you'll be wondering why you didn't do this sooner. That's exactly what I've been asking myself. Crescent roll dough makes these a cinch. You'll make the mixture and spread it over the rolls evenly. For a low-fat version, you can use low-fat cream cheese and a sugar substitute if you wish. You'll then top it with the second package of crescent roll dough. Don't forget to brush it with egg white. It will help it turn that nice, golden brown.
Once it's done cooking, let it cool for 20 minutes before you pour the glaze on top. Then enjoy it warm or cold, preferably with some good coffee. By the way, the original poster gives some instructions on how to reduce the filling should you wish for a Danish that isn't so full. While these did turn out with quite a bit of filling, it personally made me happy. If less filling is more your style, make sure you see those notes at the end.
THE RECIPE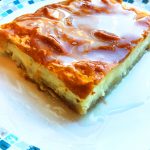 Ingredients
2 cans ready to use refrigerated crescent rolls
2 8-ounce packages cream cheese
1 cup sugar
1 teaspoon vanilla extract
1 egg
1 egg white
Instructions
Preheat oven to 350* degrees and grease a 13X9-inch baking pan.
Lay a pack of crescent rolls in the pan and pinch the openings together.
Beat the cream cheese, sugar, vanilla, and egg together until smooth.
Spread the mixture over the crescent rolls evenly and then lay the second pack of crescent rolls on top of the cheese mixture and brush with egg white.
Bake for 35-45 minutes until the top is golden brown.
Top with glaze after cooling for 20 minutes.