SUNNY DAYS AND SANDY BEACHES, PLEASE!
It was the middle of winter when I originally wrote this and I was dreaming of summer.
When I think of warm summer days, I instantly think of coconut.
Coconut drinks. Coconut shrimp. Coconut lotion.
Coconut is synonymous with warm weather and toes in the sand for me.
It was this longing for hot days that got me seeking out this cool dessert.
…and believe me: This one is a hit.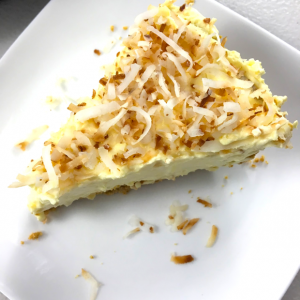 THE NO-BAKE REVOLUTION HAS BEGUN!
Simple doesn't even begin to describe this dessert, especially since you don't even have to do any baking!
Just a few ingredients that you probably already have at home and ten minutes to spare, you too can be putting together this creamy and delicious slice of summertime fun.
Let's start with what you'll need from the fridge and pantry.
Any of the ingredients that you don't have at home will most likely be found at your local grocery store or supermarket.
I'm including links to AmazonFresh
for these items so you'll have a crystal clear idea of the ingredients you'll need to pick up.
If you already use AmazonFresh for grocery delivery or you plan to sign up for a free 30-day trial
of this really convenient service from Amazon, then you can just purchase these items directly on the site and have them delivered to your home.
For full disclosure, we are an Amazon Associate and we may earn from qualifying purchases.
LET'S BEGIN!
1) Honey Maid Graham Cracker Pie Crust
Make sure you buy a 9-inch ready made pie crust.
2) Jell-O Instant Vanilla Pie Filling
1-1/2 boxes (about 7.5oz.) so buy 2 boxes (5.1oz each box) that way you'll have enough.
3) Cool Whip Frozen Whipped Topping
Buy 1 Tub (8oz.), you'll be using the whole thing.
4) Baker's Sweetened Shredded Coconut
1/2 cup of shredded coconut so buy 1 bag (14oz.).
You also have the option of toasting some of the shredded coconut as part of the recipe.
5) Simply Organic Vanilla Flavoring
1 teaspoon of vanilla flavoring or extract so buy a 2 or 4 oz. bottle.
6) Whole Milk
2-3/4 cups of your favorite cold whole milk.
GET YOUR TOOLS READY!
There's really not that many things you need to put this delicious pie together.
1) Pyrex Mixing Bowls
You'll need a couple of mixing bowls to put the ingredients together.
2) OXO Good Grips Whisk
You'll be whisking by hand, no need for an electric mixer for this recipe so make sure you have a good hand whisk.
3) StarPack Premium Silicone Spatula
You'll be folding together some ingredients so having a good spatula really helps.
4) OXO Good Grips Measuring Cup
You'll need to measure that milk so make sure you have a handy measuring cup.
5) Bellemain Porcelain Ramekins
Ramekins are great to hold those small amounts of ingredients like the vanilla flavoring and toasted shredded coconut used in this recipe.
LET'S PUT THIS PIE TOGETHER QUICK!
Using a large bowl, pour in the vanilla instant pie filling, the whole milk and the vanilla flavoring / extract: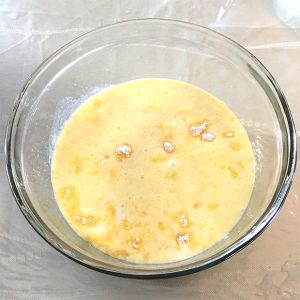 Whisk the mixture in the bowl until you get a nice thick consistency, like this: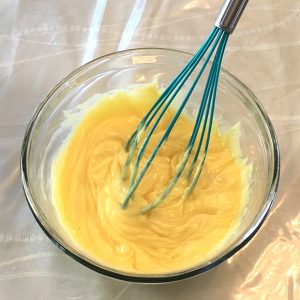 Make sure the frozen whipped cream is thawed and add it along with the 1/2 cup of shredded coconut to the mix: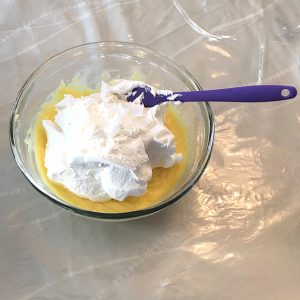 Fold it into the mix, like this: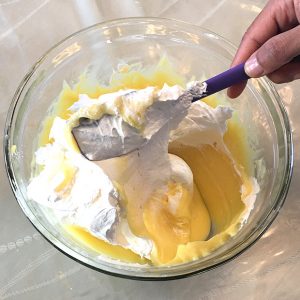 When you're done folding it in, this is how your coconut cream pie filling should look: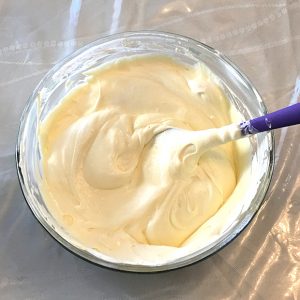 Now just add your freshly made coconut cream pie filling to the ready-made pie crust: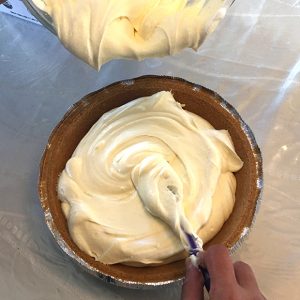 Smooth out the top of the pie: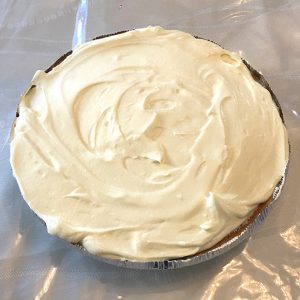 Highly recommended but optional, add some toasted shredded coconut to the top of your pie:
Chill in the refrigerator for 3-4 hours before serving: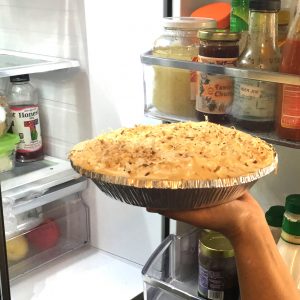 And that's it we're done! Serve it with a smile: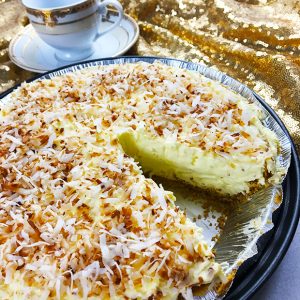 DESSERT FOR ELEGANT DINING!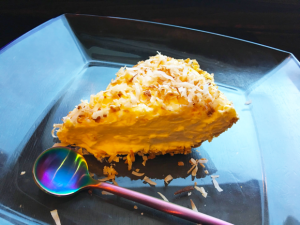 Don't think that just because this dessert takes 10 minutes to make that it isn't worthy of fine dining.
The rich creamy texture along with the sweet (but not too sweet) taste makes this a perfect compliment for that fancy dinner.
THE RECIPE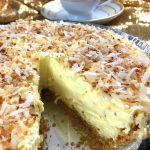 Ingredients
1 graham cracker crust (9 inches)

1-1/2 boxes of instant vanilla pie filling (5.1oz boxes, approx. 7.5oz. for recipe)

1 tub of frozen whipped topping (8 ounces), thawed

1/2 cup sweetened shredded coconut

1 teaspoon vanilla flavoring / extract

2-3/4 cups cold milk

Additional shredded coconut, toasted
Instructions
STEP 1:In a large bowl, whisk the instant vanilla pie filling, whole milk and vanilla flavoring / extract for 2 minutes until you get a nice thick consistency.
STEP 2:Fold in whipped topping and 1/2 cup shredded coconut.
STEP 3: Pour into the ready-made crust.
STEP 4 (Optional):Sprinkle with toasted coconut.
STEP 5:Chill until serving.