SUNNY DAYS AND SANDY BEACHES, PLEASE!
It was the middle of winter when I originally wrote this and I was dreaming of summer.
When I think of warm summer days, I instantly think of coconut.
Coconut drinks. Coconut shrimp. Coconut lotion.
Coconut is synonymous with warm weather and toes in the sand for me.
It was this longing for hot days that got me seeking out this cool dessert.
…and believe me: This one is a hit.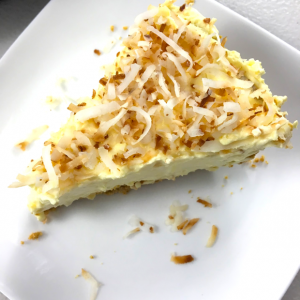 THE NO-BAKE REVOLUTION HAS BEGUN!
Simple doesn't even begin to describe this dessert, especially since you don't even have to do any baking!
Just a few ingredients that you probably already have at home and ten minutes to spare, you too can be putting together this creamy and delicious slice of summertime fun.
If you'd like to see step-by-step exactly how we make this delicious Killer Creamy Coconut Pie, Click Here to sign up for our FREE Recipe and Baking Newsletter.
Once you sign up, we'll immediately email you a link to our Special Member's Only guide on how we put together this amazing pie plus you'll be the first to get access to other great recipes that we make!
THE RECIPE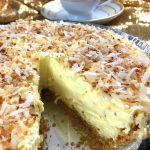 Ingredients
1 graham cracker crust (9 inches)
1-1/2 boxes of instant vanilla pie filling (5.1oz boxes, approx. 7.5oz. for recipe)
1 tub of frozen whipped topping (8 ounces), thawed
1/2 cup sweetened shredded coconut
1 teaspoon vanilla flavoring / extract
2-3/4 cups cold milk
Additional shredded coconut, toasted
Instructions
STEP 1: Whisk the instant vanilla pie filling, whole milk and vanilla flavoring / extract in a large bowl for 2 minutes. Then fold in the whipped topping and 1/2 cup coconut.
STEP 2: Pour it into the crust and sprinkle it with toasted coconut then chill until serving.