WHY SPEND TIME BAKING WHEN YOU CAN JUST BE MAKING?!?!
Oh no, now don't worry. I'd never give up baking. Ever. But some days, it's so great to make something that doesn't require turning on the oven, you know? Like when it's super-hot outside. That's when it's a good time to bust out these no-bake coconut pecan chocolate bars that I found. They're nutty and chocolaty and coconuty and just plain wonderful. You keep them in the refrigerator so they're perfectly refreshing during warm weather.
Because whether the weather is warm or not, it's always wise to have a stash of yummy desserts handy, isn't it? That way, when you're making dinner and you open the fridge, you'll see them and be like, "ZOMG! I have GOT to have one of these things NOW!" And really you should. You deserve it. Because you're making dinner and keeping the kids from killing each other and you know how to restrain yourself when your husband acts like you did nothing all day except eat these bars. Which may or may not be true but I won't judge you.
NO OVEN OR STOVE NEEDED!
So you don't need to heat up your kitchen with the oven or the stove to make these. And that really is all kinds of nice when it's so hot out that your air conditioner doesn't even seem to be doing anything to help cool things off inside. For someone that likes to cook and bake as much as I do, I despise being hot. You'll just be using your friendly microwave, which doesn't heat up your kitchen. It only heats up what it's cooking. Brilliant!
You can make these in just 10 minutes. No kidding! Just mix the chocolate, peanut butter, honey, and butter together and microwave for 2 minutes. Then you'll add the rest of the ingredients. And then you spread it in a pan lined with parchment paper. So easy! Then the refrigerator takes over and gets these babies to set. And that, my friends, is the downside to no-bake items. The waiting time as it sets in the fridge. But it will all be worth it soon. And hey, if you start now, they'll be ready even sooner!
THE RECIPE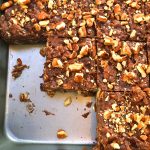 Ingredients
1½ cups semi-sweet chocolate chips
1 cup creamy peanut butter
½ cup honey
¼ cup butter
1½ cups old fashioned oatmeal
1½ cups sweetened coconut flakes
1 cup chopped pecans
Instructions
Place the chocolate, peanut butter, honey, and butter in a large glass mixing bowl.
Microwave for 2 minutes at full power.
Remove from the microwave and stir until the chocolate has fully melted and well combined.
Add the oatmeal, coconut, and pecans to the melted chocolate. Stir to combine.
Line an 8-inch pan with parchment paper.
Scoop the chocolate mixture into the pan and spread across the pan with a spatula.
Refrigerate until firm, at least 3-4 hours.
Use the parchment to lift the cold chocolate from the pan.
Use a sharp knife to slice into bars or small squares.
Store in an airtight container in the refrigerator for up to 2 weeks.