FALLING IN LOVE HAS NEVER BEEN EASIER. NEITHER HAS MAKING FUDGE!
Growing up, fudge was always something my neighbors made. Or the old-timey candy shop at the mall. Despite being a fabulous chef and baker in her own right, my mom never made fudge. Pies, cakes and brownies? You bet. But never fudge. I always assumed it was hard to do.
Now as an adult, when I discovered how easy it was to whip up a batch of fudge, I was elated. Until I started whipping some up way too often, thus forcing myself to run an extra hour on the treadmill each day.
So while it is really easy to make, especially this strawberry fudge recipe, my best advice to you is to make it for someone else. Share this fudgy strawberry love or else you will eat the entire batch. Don't blame me when you roll over off the sofa after your strawberry-fudge-induced coma. You have been warned. Make it for the office. Make it for your friends. Make it for your love.
MAKE FUDGE, NOT WAR!
What's easier than making fudge? Making fudge with just 2 ingredients. I kid you not. This recipe is so easy that I had to double and triple check to make sure I wasn't reading it wrong.
Yup. Just 2 ingredients.
And you know what else? You use the microwave. No standing over the hot stove slaving away. No candy thermometers either. This glorious, rich and creamy strawberry fudge recipe is fail-safe too. You cannot mess it up. I tried. I did. And I couldn't botch it up.
It takes 7 minutes total from start to finish. Then you'll let it set in the refrigerator. Before you do though, if you really want to make these look like you slaved over them for hours and hours (do it…because you can lord that over your husband and kids like nobody's business), add some pretty red sprinkles to the top. Or those red and white ones. Or oooh…even those silver balls. Everything looks better with sprinkles. And tastes better too, but I think that's just all in our heads because even without sprinkly adornments, this fudge is fabulous.
THE RECIPE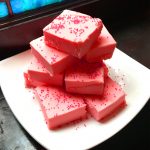 Ingredients
1 (16 oz) container strawberry frosting
12 oz (3/4 lb) almond bark or white candy coating
Instructions
Lightly spray a 9x9" pan with non-stick cooking spray.
Place the entire container of frosting and almond bark into a microwavable safe bowl.
Microwave on medium power (50% power) for 45 seconds. Remove from microwave and stir. Return to microwave for 20 more seconds, then remove and stir until completely melted and smooth.
Pour into prepared pan and place in the fridge for about 45 minutes or until completely set. Remove and cut into squares (makes about 50 small pieces).